Experience Rajasthan's Royalty this Winter
Rajasthan needs no introduction. Just like the royalty this state is, it rules the tourism industry of India. The number of tourists who visit Rajasthan every year is humungous. In 2017, 475.27 lakh tourists came to Rajasthan. This number is higher than the population of some countries in the world. Well, there are factors which support this statement. There are hundreds of places in just one city of this beautiful state, and to give an idea there are about 15 cities and towns and 33 districts here. To name a few places in this state full of culture, hospitality and beauty is a difficult task, but to make your travel plans easier we have named top 12 places in Rajasthan to make this winter as royal as it can be. 
1. Udaipur
If there could be just one place in the world which could define royalty, it would be Udaipur without an ounce of doubt. Each and every inch of this city speaks for the glorious past it had. Udaipur is also called the 'City of Lakes' and rightly so because there are four-five lakes in the city and each one of them is very big in size. The City Palace of Udaipur is like the Kohinoor in a crown., truly amazing with fine detailing throughout. Its beauty makes one wonder about the marvellous architecture of those times. Generally, when somebody hears Rajasthan, they imagine it to be a desert and among such misconception, this city of lakes seems like a mystery to others. Well, it is surrounded by the Aravalli range of hills which separates it from the Thar Desert. With a lot of glitter everywhere you can also find one of India's most beautiful and hospitable cultures here. In short, to live your life king-sized for a day or two, head towards Udaipur.
To read more about what to do in Udaipur and how to reach there, read our guide on Udaipur here: https://www.wanderwhale.com/destinations/udaipur
2. Jaipur
Jaipur is the capital of Rajasthan and the state's most developed city. Jaipur is usually the first city tourists come to as it is accessible from almost every part of the country. Being India's one of the most loved cities, it has a lot to offer. From forts and palaces to clubs and cafes, Jaipur has it all. One of the most famous places in Jaipur is the Nahargarh Fort from where you can look at the entire city and it makes you feel at the top of the world, and literally so. Essentially known as the 'Pink City' the city is actually pink centrally at its core. There are old shops, markets, homes and temples, all painted pink which look orange now due to oxidation, give a very aesthetic vibe. This uniformity is amazing to look at and often makes people take out their cameras/mobiles to catch this beauty. The most significant monument here is the Hawa Mahal which today is the quintessential face of not just Jaipur, but entire Rajasthan. Its architecture till date is unparalleled and blows minds away every single time. To enjoy royalty mixed with modernity, Jaipur is just the place for you.
To read more about what to do in Jaipur and how to reach there, read our guide on Jaipur here: https://www.wanderwhale.com/destinations/jaipur
3. Jaisalmer
Jaisalmer, the Golden City of Rajasthan is known for lying in the heart of Thar Desert. Its crown is the Jaisalmer Fort lying atop a hill overseeing the entire city which seems to glitter throughout the day. Considered to be very hot, it has extreme climatic conditions. During the daytime, the temperature rises up to 48-49 °C in summers whereas nights remain cool at 20-25 °C. The entire city has houses made of sandstone which glows during the day and it seems like the entire city is glowing and thus it is called the Golden City. Jaisalmer is the cultural capital of Rajasthan. The number of colours found here infinite. You can find authentic Rajputana food here. Jaisalmer being such a great cultural hub, is famous for exporting song and dance artists to the entire world. Here you can find the best Rajsthani outfits like Ghaghra, Choli, dupattas, turbans, dhoti kurta and all full of colours. To experience the best of Rajasthan, it is impossible to achieve it without visiting Jaisalmer at least once. Also, one of the best things to do in Jaisalmer, especially in Thar is to catch the sunset and sunrise. Make sure you stay in the desert camps for a night and catch the sunset the same day in a jeep safari and the beautiful sunrise next morning on a camel ride. For sure these sunset and sunrise will be one of the most beautiful sights you can ever see.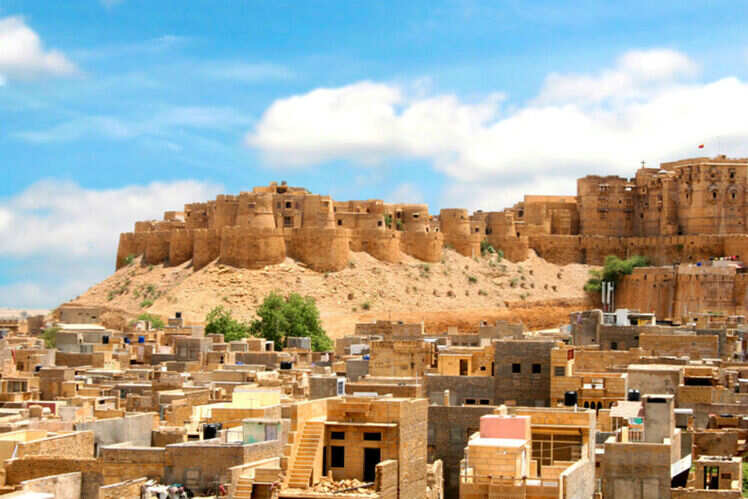 To read more about what to do in Jaisalmer and how to reach there, read our guide on Jaisalmer here: https://www.wanderwhale.com/destinations/jaisalmer
4. Pushkar
Pushkar is most popularly known for having a temple dedicated to Lord Bramha. It is one of the most loved cities in Rajasthan. Even though very small in size, it attracts a very significant amount of tourists. There are many temples in Pushkar dedicated to multiple gods. The famous Pushkar Sarovar is one of the most sacred lakes in the Hindu mythology and falls in the group which has the likes of Mansarovar. Around this beautiful and calm lake, there are many ghats where people take a bath or perform rituals or offerings to God. Pushkar has been featured in a lot of movies and tv serials as well. The famous Karan-Arjun temple where Karan and Arjun's mother prays to Lord Kali is in Pushkar. Infact, the 'Haveli' which had become a recent meme and trended for the longest time, is in Pushkar too. Known mostly for religious reasons, Pushkar is much of a party place too as here you can find many foreign travellers who are very open to socializing. In many hotels, you can find parties happening regularly. Even though this is a great time to visit Pushkar, the best time to visit it would be during Holi as this holy town then is at its best.
To read more about what to do in Pushkar and how to reach there, read our guide on Pushkar here: https://www.wanderwhale.com/destinations/pushkar
5. Jodhpur
Jodhpur or 'Blue City' is one of the most historical cities of Rajasthan. It also is the second-largest city of the largest state in India. The most distinguishing factor of Jodhpur is the Mehrangarh Fort, very grand, very royal. It sits atop a hill at 410 meters and overlooks the entire city. It is one of the biggest forts in India and is a UNESCO Heritage Site. Jodhpur is uniquely beautiful, on one hand, we see such a mighty fort, which can be spotted from miles away and on the other hand there are hundreds of small houses all blue in colour, providing a striking contrast. Mehrangarh fort has become a famous shooting location as well, especially after the famous franchise of Batman shot their 'The Dark Night Rises' here for a small but immensely powerful scene. Jodhpur is globally known for one another palace, the Umaid Bhawan Palace, which is one of the largest private residences in the world. The Umaid Bhawan is as grand as anything in the world could be, with a heritage hotel, residency of the royal family and a museum in it. One of the most spectacular hotels in the world, it is also the first choice of many wealthy people to get married. Jodhpur has amazing food, culture and markets to shop from. This is one of the most ideal weekend locations in the world.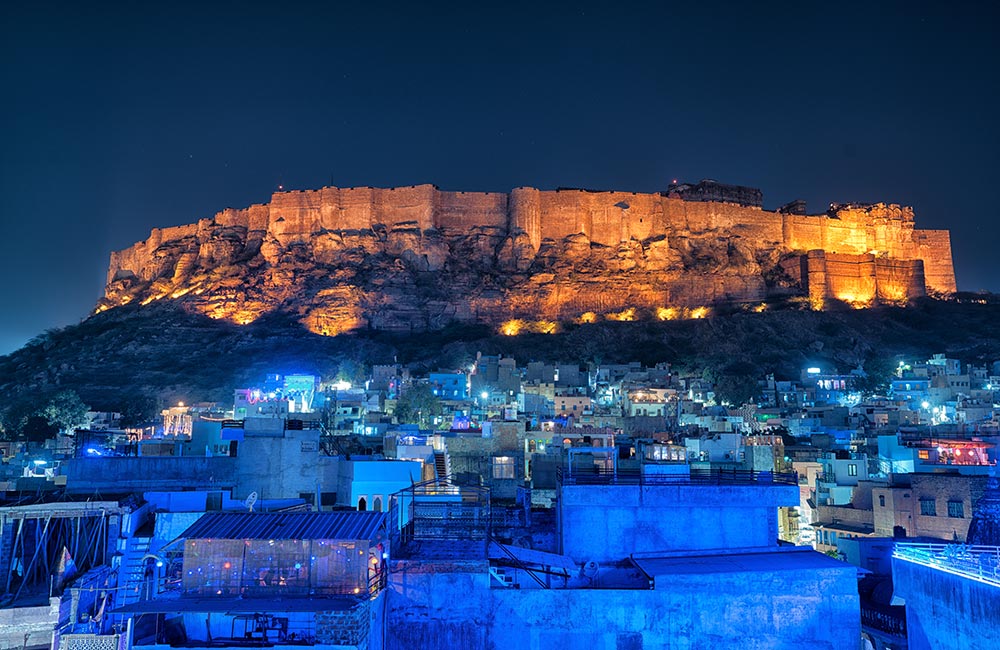 To read more about what to do in Jodhpur and how to reach there, read our guide on Jodhpur here: https://www.wanderwhale.com/destinations/jodhpur
6.Ranthambore
Ranthambore is most popularly known for its tiger reserve. It is India's biggest tiger reserve with amazing flora and fauna. It has been a hotspot for nature lovers for the longest period of time. Earlier during the monarchy, kings used to come here to shoot tigers, which is largely responsible for their decline in population. It is essentially a national park today, The Ranthambore National Park. The best way to explore this park is through a safari ride. And since it is spread in 392 kms square it is pretty difficult to cover it on foot. There is a for inside the park, The majestic Ranthambore Fort. It was built by the Chauhan Dynasty in th1 10th century. It has been listed in the UNESCO World Heritage Site as well. Inside the fort, you can find temples dedicated to Lord Ganesh, Lord Shiv and Lord Ram. The park is surrounded by the Aravalli and Vindhya hills, which make for a stunning backdrop. Birdwatching, camping or just spending some time surrounded by the best of nature, if doing these things is your hobby or your dream, then Ranthambore is just the place for you.
To read more about what to do in Ranthambore and how to reach there, read our guide on Ranthambore here: https://www.wanderwhale.com/destinations/ranthambore
7. Bikaner
Bikaner is one of the oldest cities in the state with a long-standing history. It is surrounded by the Thar Desert and lies east of the border with Pakistan. What strikes the most in Bikaner is the magnificent architecture. The palaces are all well built, maintained and stunning to look at. The most famous fort is the Junagarh fort. It has beautiful carvings on the outside and amazing interiors as well. Another very famous haveli is the Rampuriya Haveli. Its construction is very unique and it seems very American shape even though it is 100% Indian. The Laxmi Niwas Palace is again a very beautiful palace which has now been converted into a luxury hotel. Many movies and TV Serials have been shot in Laxmi Niwas Palace and can be instantly recognized. Bikaner apart from its beautiful palaces is known for one more thing, a snack which almost every Indian has in his/her home and loves immensely- the Bikaneri Bhujia. Yes, Bikaner is the origin of that delightful snack! One very interesting fact about Bikaner is that the streets are very narrow, it might look underdeveloped, but there is a reason behind it, that is not allowing sand to clog after a sandstorm which is very frequent here due to proximity to the Thar.
To read more about what to do in Bikaner and how to reach there, read our guide on Bikaner here: https://www.wanderwhale.com/destinations/ranthambore
8. Bundi
Bundi is one of the lesser-known gems of Rajasthan. The fort of Bundi is one of the most beautiful forts you can ever see. It is grand, majestic and organic, all at the same time. The way it beautifully blends with its surroundings is remarkable. It is difficult to imagine what the place would have looked like before this fort was made. Bundi has been blessed with nature and it reflects in one of the most famous schools of art in India, the Bundi School of art in the Rajasthani style paintings. These intricacies can also be seen on the inside walls of Taragarh and Garh forts. Another past architecture which is a Bundi speciality is the stepwell. There are 3 step wells here, which are not very well-maintained because of fewer tourists, but are still beautiful and can easily blow away minds. So, if you are on a lookout for a place which is full of history and culture, having magnificent forts but not much crowd, Bundi is just the place for you.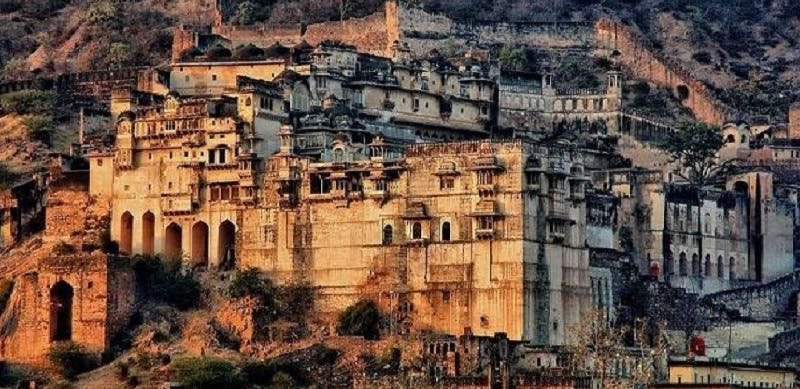 To read more about what to do in Bundi and how to reach there, read our guide on Bundi here: https://www.wanderwhale.com/destinations/bundi
9. Bhangarh
Bhangarh is Asia's one of the most haunted places. It has had this reputation for a very long period of time. Bhangarh was once a prosperous kingdom but after a severe famine, the entire population abandoned the area. Though the locals, as well as many stories, state that it was cursed. Again, there isn't one, but multiple stories which are suggestive of its current state. According to these stories ghosts still live here and get active during the night, so there is a strict provision to not stay here between sunset and sunrise. Many people who previously lived here or somehow managed to sneak in and passed a night here have claimed to have felt paranormal activities. Some people claim it rubbish, but again there are two schools of thoughts prevailing. There is no proof the existence of a ghost but yes people who visit it get spooky vibes. More or less Bhangarh is worth a visit especially if you are in Jaipur. If you are planning to visit from Jaipur you must have an extra day in hand as it is about 65 kms away. The best way to reach is to get a rented car or cab from Jaipur.
10. Kumbhalgarh
Located 85 kms away from Udaipur and being listed in the UNESCO World Heritage Site, Kumbhalgarh is still not one of the most famous tourist places in Rajasthan. It is a grand fort, probably the mightiest and the biggest in the entire country. Its walls have a perimeter of 36 kms, and it is believed to be the second-longest wall in the world after the Great Wall of China. The strategic location of this fort is brilliant as it surrounded by the Aravalli range from all the sides and it is built upon the tallest hill of the range. From the fort, especially from the top one can look kilometres into the great Aravalli Range. Inside the fort, there are multiple temples dedicated to Lord Shiv, Ganesh and Jain temples as well. This shows that there was a blend of culture in Kumbhalgarh. There is a lot of intricate work inside the fort which increases its beauty manifolds.  One of the most majestic forts ever, it is a must-visit when in Udaipur.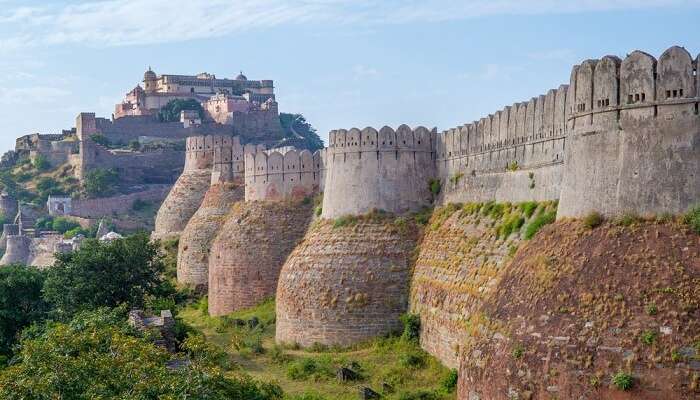 To read more about what to do in Kumbhalgarh and how to reach there, read our guide on Kumbhalgarh here: https://www.wanderwhale.com/destinations/kumbhalgarh