Celebrate your October at these 15 amazing places!
Travelling does not see seasons, it doesn't require a motive, it is done to achieve the non-materialistic happiness. It makes our souls happy, and what could be a better incentive? A lot of people can't travel whenever they want to because of their work or family commitments, but they eagerly wait for holidays to come to let the traveller inside them have some fun. October is generally considered a good month to travel as it is the Autumn season and everything around looks beautiful, like a piece of art. Also, in October there are quite a few holidays as well, which often turn into extended weekends and sometimes even week-long holidays. This October, with holidays for Dussehra and Gandhi Jayanti, submit a holiday application already in your college and start planning your trip as here we present before you 15 places you can visit this October in India and celebrate this festive mood in style!
1. Lahaul and Spiti
One of the most beautiful places in Himachal Pradesh, Lahaul and Spiti are just perfect to spend holidays this October. Full of nature's goodness and blessings this place seems just out of any beautiful wallpaper. Often mistaken to be Ladakh this place has been in shadows for a really long time. But a part of the legendary Himalayas these wild valleys are extremely beautiful with rugged mountain tops, patches of greenery and crystal blue skies. The place gives out Tibetan Vibes and feels a lot different from the general Indian culture, and this is mostly because the Spiti Valley separates India from Tibet. There are many monasteries in the region which are so peaceful that you forget all your worries as soon as you start feeling the vibes of the place. It is a heaven for bikers as the roads here are very scenic following a trail of mountains and a turquoise greyish river flowing side by side. It is a paradise for trekkers as well. There are a number of treks you can find here ranging with long as well as short distances. You can also find a ropeway here from Kibber to Chichum which are popular tourist attractions. If you want some soul-wrenching experiences full of beautiful landscapes, Lahaul and Spiti Valley are calling you out. 
2. Bir Billing
Another tourist hotspot in Himachal Pradesh, Bir Billing has caught a lot of attention recently for paragliding. Bir and Billing are actually two different places, where Bir is the landing site and Billing the takeoff site. They have an altitude gap of about 800 meters. Located in the west of Joginder Nagar Valley, it has become a favourite for trekkers as well. It also has a lot of Tibetan influence, so you can also find some monasteries in the area. Overall, it is a very peaceful and beautiful place to be at. It is also a great place for meditation, ecotourism and spiritual studies.
3. Rajasthan
Rajasthan is one of the most exotic tourist locations in India. It attracts crores of tourists every year from all around the globe which largely boosts India's travel economy. It is one of the most authentic places you can visit. Mostly famous for palaces and forts, Rajasthan means the 'Land of Kings' and truly so. In just this one state there are 6 UNESCO World Heritage Sites and all of them are palaces. If royalty had to be a state, it would be Rajasthan hands down. And the palaces here aren't normal either, some have a boundary perimeter of 36 kms which makes them second largest wall in the world, some are built in the middle of a lake, some are situated on high hilltops from where the entire city is visible, some are even haunted. There is no limit for tourism in Rajasthan. Apart from these magnificent palaces, there is amazing food as well. Yes, no matter where you are in Rajasthan you can always find good food and that too of all kinds. It is also one of the most religious places having many important temples of the country. The locals state that it is one such place where you can find a temple after every 50 feet. That might not be entirely true, but that explains the nature of this place. One of the most beautiful states in India, having the eternally beautiful Thar Desert, it has to be on every person's bucket list! Everybody should visit Rajasthan at least once. 
4. Lachen
Lachen is one of the most loved tourist destinations in the Himalayan state of Sikkim which shares its border with China. Though it is generally treated as the base to Chopta Valley, Gurudongmar Lake and Green Lake, it has a lot more to offer. Lachen means 'Big Pass'. Filled with the goodness and harmony of Buddhism, it attracts a lot of tourists for the peaceful beauty it is. Snow-capped mountains with beautiful lakes and roads near them on which you can drive makes this place no less than a paradise. It had remained unnoticed for a long time, but now the Sikkim Government is promoting it as a beautiful tourist destination. It is a great time to be in Lachen as after this month the place becomes very cold, but right now it is just cold enough to feel the place truly.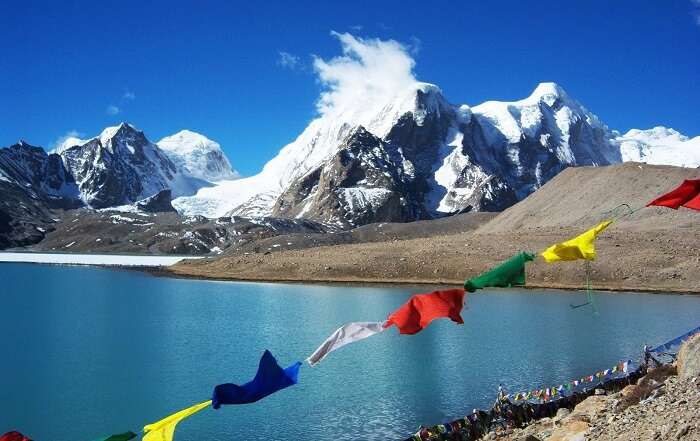 5. Rishikesh
Rishikesh is a unique sort of place, it is highly spiritual on one hand and extremely adventurous on the other. Here people come from all the parts of the world to experience peace, serenity and to imbibe positivity in their lives. Also, people come here for adventure sports like Bungee Jumping, Rafting, Giant Swing and Flying Fox. It is such a different combination and yet it doesn't seem odd. The whole place gives out such positive vibes that it feels like a home, far away from home. The uninterrupted flow of river Ganga makes everything stand still. Its serenity calms even the most restless souls. People come to river Ganga to wash away their sins and slowly start growing fond of this town too, adapting the culture it has, throwing away all the bad and negative things from life, and possibly this is the magic of this river that purifies not just the person's soul, but the entire town's. Popularly known as the 'Yoga Capital of the World' today Rishikesh is not just attracting people from India but from each and every part of the globe. October is a great time to visit Rishikesh as the weather is at its best and makes for great travel time.
6. Agra
Agra is the undisputed king of India's tourist places. It has had the crown for the longest time and has no plans to let go of it anytime sooner. It is home to Taj Mahal, one of the seven wonders of the world. Taj Mahal has been considered to be one of the most beautiful and romantic places in the world. A lot of people choose this city to get married, or they like to get engaged in front of the majestic Taj, or some have their photoshoots done having this epitome of beauty and love in their background. The Taj Mahal every year attracts a crowd of almost a crore people, with about 1.1 crore tourists in 2018. Apart from Taj Mahal, Agra is also famous for the beautiful and grand Agra Fort which was the home to many Mughal rulers including one of the best rulers of the country- King Akbar. Fatehpur Sikri is also a very famous fort here. Apart from these breath-taking monuments, Agra is very famous for its sweets in the entire country and nobody leaves this city without getting a few kilos of them. October is generally the start of tourist season here and is a great time to be in Agra although there is no best time to see the wonder Taj is!
7. Kolkata
Kolkata is West Bengal's capital and no less than a cultural heritage in India. Also known as the 'City of Joy', Kolkata is rich in traditions, customs and love. Mostly all the people living here are Bengali so there is a sense of a strong community always. There's great food, great clothes, great customs, and a beautiful Hoogli river to spend evenings at. What more does a city want? Kolkata is oddly traditional yet modern. Maybe this is because people here still are very much connected to their roots and dwell in their culture more than often. The greatest festival celebrated here is Durga Puja, which is celebrated in the entire state with a lot of love and humungous enthusiasm. For this 9 day festival celebrated in October mostly, people start preparing for the next year as soon as it ends the current year. There is madness, craziness and frenzy all over the place during Durga Puja, or 'Pujo' as fondly called here, but it so pure and full of love that everybody should witness this at least once in their lifetime. To be a part of this celebration can be one of the greatest and best experiences in one's life.
8. Ziro
A quaint little town in Lower Subansiri district in the Indian state of Arunachal Pradesh, Ziro is no less than a paradise. Home to the Apa Tani tribe, it is a place still not touched by pollution and modern civilization. True to nature, it is full of pine trees and clean and beautiful stretches of rice fields. To witness some authentic tribal culture and to get away from the troubles of a developed city, Ziro is one of the most beautiful escapes ever. During this time of the year, the weather here is excellent making it a great time to travel.
9. Goa
There might not be a single friend group today who didn't make a Goa trip which never succeeded. Everybody deep down always wants to have a trip in Goa even if they haven't said it out loud. One of the most happening places in India, Goa seems like a fantasy land to some. Beautiful and exotic beaches, beach-house hotels and resorts, long scooty rides with friends, it practically defines the word 'chill' in today's times. A happening nightlife, getting to know foreigners, remaining soaked in a pool for a large part of the day, enjoying various sorts of cuisines and having great drinks, what else does a person want in vacations? One of the favourite locations for shooting og movies in India, Goa is the ultimate place for chilling and having fun!
10. Mysore
One of the most royal cities of India, Mysore is located in the southwestern Karnataka. It is impossible to talk about Mysore without talking about the grand, royal and extremely beautiful Mysore Palace. It is without any doubt one of the most magnificent palaces in India. Known for its architectural style, one of the best things about the palace is that it is a blend of Hindu, Islamic, Gothic and Rajput styles. It basically represents all the forts in India, from north as well as south. Mysore has been the capital of the royal Kingdoms for a long time and has a great history. Thus, it also has very historic places, monuments and even markets. It is impossible to see what everything looked back in time, but, Mysore makes the job somewhat easy for us!
11. Hampi
One of the most ancient cities in India, Hampi has a lot of history attached to it. Having seen very prosperous times, it has thousands of stories to tell even today. What was earlier a great empire, today lies in complete ruins due to a war in which the king and kingdom who attacked it, left it in ruins which we can see today. All those who have heard of Tenali Rama, the great scholar and poet from Vijayanagar, wish to visit Hampi at least once in their lives. Today, Hampi which is part of the Vijayanagar kingdom is a UNESCO World Heritage Site. Even in its ruined state Hampi never fails to impress with what it used to be once. Everybody who visits Hampi always wonders that what looks so glorious in its ruins, must have looked grand, royal and mighty in its good days. 
12. Kasol
Kasol is one of the most beautiful places in the state of Himachal Pradesh. It has recently started to gain a lot of attention from backpackers and trekkers. Situated in the Parvati Valley, it is a beautiful, little hamlet in Kullu. Lying along the banks of river Parvati, it is also known as the Amsterdam of India. For such a quaint little place, Kasol has a lot to offer. Very pristine in nature, even the water of the river is extremely clean. To spend some time away from today's mechanical and technical civilizations, it is one of the best places in India as it is not much affected by it. The mountains in the backdrop make for a very scenic location while the gushing river flows in the foreground. Visiting Kasol in October is a great idea as it is not very cold here now, but yet cold enough to enjoy the beauty of the place.
13. Pachmarhi
Pachmarhi or the 'Satpura ki Rani' meaning the Queen of Satpura, is the only hill station of Madhya Pradesh. It is an exotic place full of natural beauty. Full of forests and hilltops, it is perched at an altitude of 1100 meters. A number of caves have also been found here in the late 1850s which makes the place a lot more interesting. A lot of these caves have Buddhist carvings and the entire place resonates Buddhism which makes it a very peaceful place to be at, a place where one can forget all his worries and let himself drown in the beauty of nature.  There are a number of waterfalls here as well with water taing plunge from really high hilltops forming into beautiful and serene pools.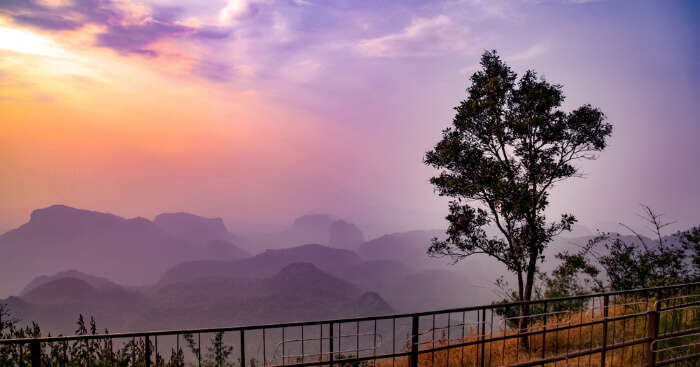 14. Rann of Kutch
A beautiful salt marshland with a very different type of terrain. Stretched up to a very large area, it has been one of the most ideal shooting locations for Bollywood movies. It is a part of the great Thar Desert, but what is interesting is that it meets the Arabian sea as well. Desert and ocean at the same place is quite a combination to be thrilled about. Sunsets at this vast expanse of land are no less than a treat for eyes. It is one of the most breathtaking sights you can behold. You can also find camels available here for a ride and some handicrafts to buy as well. Rann of Kutch totally feels out of this world for how beautiful, unique, and serene it is. Every year Rannutsav is held here from October to February when a lot of tourists decide to visit this beauty. It is definitely the best time to witness the magic that Rann of Kutch is!
15. Kerala
Kerala, the land of spices, also known as 'God's own country' is one of the most loved tourist destinations in India. Full of nature's blessings and wonders, it is a true retreat for vacations. It has lagoons and backwaters, aromatic tea-gardens, beautiful coastlines, vibrant culture and mouth-watering food. Kerala has such a calm, peaceful, pollution-free and pious atmosphere that it has an impact on lives forever. Everybody goes for a vacation when they are in stress or need a break, and the best place to relax will be Kerala. Known for its ayurvedic treatment and massages, people from all over the world come here for rejuvenation. Kerala seems to be a gift from nature. which everybody must enjoy once in their lives!