Best places to visit from Bangalore in Monsoon
Monsoon is indeed one of the best seasons to travel, and why shouldn't it be? The trees look greener than ever, all the streams around us are so full of water, nature seems to have clicked on its refresh button! Monsoons may not be liked by everyone, but deep down we all know how important they are, not just to fill up our water reservoirs, but also provide our mother nature with the nourishment it yearns for the entire year. It seems to be the time to rejoice and appreciate all the fine things in life. It makes everything look so beautiful, so fresh that unconsciously each one of us starts to notice how beautiful nature is.
With nature at its best during monsoon, it makes for a great time to go on a little trip and click on our refresh buttons too. So, here we talk about some of the best places to visit in Monsoon from India's own Silicon Valley, Bangalore-
Pro Tip: Even though nature seems a lot more attractive in this season, especially the water bodies, please make sure to take proper safety precautions as heavy and unexpected water flow in a river or a waterfall can wash everything away with. Also, at some places during this season the ground may be a bit slippery, so pay extra attention.
1. Shivanasamudra Falls
This huge waterfall is one of the best places to visit this Monsoon near Bangalore. Loaded with the beauty of nature, the volume of water during the monsoon makes it so enormous that for a second it might feel like it can break through any force in the world. It has a unique structure comprising of many streams falling down the big rocks. There are more than 10 streams, while the number increasing in monsoon due to heavy downpour. It is situated on the banks of river Kaveri and forms a natural boundary to the Chamarajanagar. Also known as twin falls locally, it was Asia's one of the biggest waterfalls at some point in time. 
Distance from Bangalore: 133kms
How to reach: A lot of buses run from Bangalore. Alternatively, since it is a 3 hr drive from Bangalore and can be reached easily by driving.
2. Jog Falls

One of India's gem of a waterfall, Jog falls can inspire any human being to turn into an artist! Its beauty makes one write poems, draw it or click as many pictures of it to keep it in their memories forever. As misty as it looks, it remains one of the most visited waterfalls in the country. There ain't one, but 5-6 streams of the river Sharavathi, which cascade down to form what is known as the beautiful Jog Falls. It has been shown in a lot of Bollywood movies too, bringing it nation-wide fame, and that is the reason it sees tourists throughout the year. Monsoon adds a charm to it as with its arrival it brings in a lot of water thus increasing its fall manifolds. The monsoon is the best time to visit this 253 m (830 ft) high waterfall.
Distance from Bangalore: 400 kms. 
How to reach: It takes about 7 hrs to reach here. There are multiple options to reach here, by driving your own car, or by bus, or even train.
To read more about the waterfalls, you can visit: https://www.wanderwhale.com/blog/top-10-waterfalls-in-india-2019
3. Nandi Hills
Nandi hills are one of the most popular hanging spots for the people of Bangalore, especially among the college kids. It has a fortress on its hilltop which is believed to be Tipu Sultan's summer retreat fortress. The hilltop also has some amazing tourist spots which include the fort of Tipu Sultan full of stone carvings and cave paintings depicting the lives of those times. There are options for paragliding as well. Overall, the place can definitely give you an adrenaline rush and leave you wanting more. The best time to visit here is early morning, to watch the sunrise. The view of the sun rising from the clouds at such a height where clouds seem to be nest to you is just magical and can leave anybody spellbound!
Distance from Bangalore: 61 kms
How to reach: A drive can be the best option. There are buses available too. 
Read our guide on Nandi Hills: https://www.wanderwhale.com/destinations/nandi-hills
4. Savandurga
Considered to be among the largest monolith hills in Asia, Savandurga can be an excellent trek in this season, when the place is full of greenery. This hill is also a part of the Deccan Plateau, rising up to a height of 1226 m above sea level. The trek to the top of Savandurga is short but considered to be very interesting due to the very uneven terrain of the land. it takes about an hour to reach the hilltop. It is best advised to start the trek at sunrise to get feel the best of weather. The view from the top is heavenly too. Even though there are not many eateries around, a lot of freshly picked up fruit from various farms are available to buy here. 
Distance from Bangalore: 48 kms
How to reach: It is best to drive up to the starting point of the trek. Else, a lot of travel companies and private taxi companies are available too. 
Read our guide on Savandurga: https://www.wanderwhale.com/destinations/savandurga
5. Skandagiri
Skandagiri has been one of the most famous tourist locations in Bangalore for a long time now. It is also historically known as, Kalwarbetta or Kalavara Durga. It is basically a mountain fortress, overlooking Nandi Hills and Muddenahalli. At an altitude of about 1450 meters, it provides terrific views. The clouds seem to be so close that you may even attempt to touch it! Here too, the trek begins at sunrise to it would be a great idea to start then. If you plan to watch the sunset from the top, then you must keep in mind it gets dark very quickly after the sun sets and it might get difficult to climb down.
Distance from Bangalore: 70 Kms
How to reach: 70 kms is quite a distance which can be driven to easily. Else, you can get outstation cabs or contact private travel agencies. 
6. Ooty
Ooty, without an ounce of doubt, is one of the most popular tourist destinations in India. It receives lakhs of guests from all over the country throughout the year. And during the rainy season, the greenery here enhances to reach its best. The beautiful Nilgiri hills are a delight to visit. Though being a small town of just 36 sq kms, it is often given the title of the 'Queen of Mountains' because of the beautiful blue-coloured Nilgiri Hills. Situated at an altitude of 2,240 meters above sea level, it experiences quite pleasant weather conditions for a major part of the year. The town is also known as "Udagamandalam". It is quite famous for its train journey which takes you through possibly some of the most beautiful places in the country! There are many tourist spots in Ooty as well and one of the most loved places is the Ooty lake.
Ooty Lake 
Distance from Bangalore: 272 kms
How to reach: It takes around 7 hours to reach Ooty from Bangalore by road. There are a few buses available. However, there is no direct train from Bangalore to Ooty. Instead, you can go to Ooty by train via Mysore, with a change in the train there.   
Read our guide on Ooty:  https://www.wanderwhale.com/destinations/ooty 
7. Chikmagalur
Lying South of the Baba Budangiri mountain range in the Western Ghats, Chikmagalur is one of the most beautiful hill stations in the state of Karnataka. It has a lot of forest and grassland trails, making it an exquisite place for nature-lovers. Being at its best during Monsoons, it can make anybody fall in love with the ever beautiful nature. Not only rich in flora, but Chikmagalur is also rich in fauna, with Bhadra Wildlife Sanctuary on its north-west. It also has coffee plantations, and well who wouldn't love to take in all that aromatic smell of coffee in just one breath? 
Kudermukh & Coffee Estates
Distance from Bangalore: 240 kms
How to reach: It can be driven to by taking the NH75. Also, there are regular trains from Bangalore which leave for Chikmagalur.
Read our guide on Chikmagalur here: https://www.wanderwhale.com/destinations/chikmagalur
8. Chembra Peak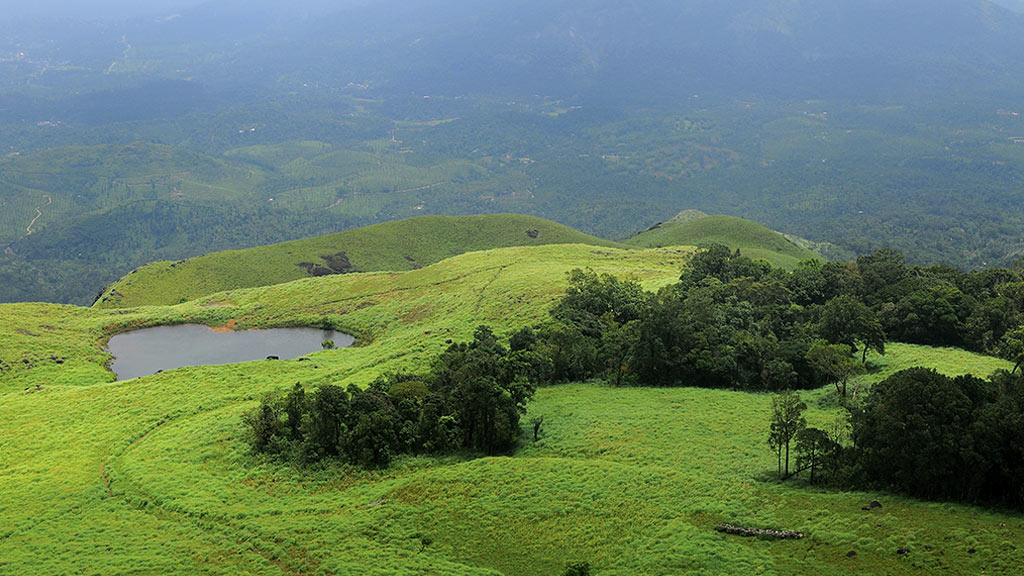 Chembra Peak is one of the highest peaks in the Western Ghats, having an elevation of 2,100 m above sea level. It also has a very beautiful lake at the top which has a heart shape making the place look even more aesthetic than it already is. And the best part is that it has water throughout the year! The greenery here is stupendous and can blow minds away! Ideal for trekking, this adjoins the Nilgiri Hills in Tamil Nadu and Vallarimala in Kozhikode. But, the catch here is that you need to take permission before trekking to the Chembra Peak. The permission should be taken from Meppady forest office. And, overnight trekking is not allowed, as there is a slight danger of wild animals in the area. 
Distance from Bangalore: 303 kms
How to reach: Kerala and Karnataka state buses run to Kalpetta, from where a bus can be taken to Meppady, which is just 7 kms from the base of the trek.
9. Coorg
Coorg, fondly called the Scotland of India, is a very popular hill station in Karnataka. It is also known as Kodagu. Having multiple points of interests, the place is primarily known for its coffee plantations. It also has a beautiful waterfall named the Abbey Falls in the Madkeri region. It is also listed as the places receiving the highest rainfall in the country. Also rich in culture, the place stands out as a total winner in all the areas. Kaveri one of the most worshipped rivers of the country also originates here in Coorg, near a place called Talacauvery. One such very popular tourist spot in Coorg is the Madalpatti, a hilltop viewpoint, and quite a popular one. 
Mandalpatti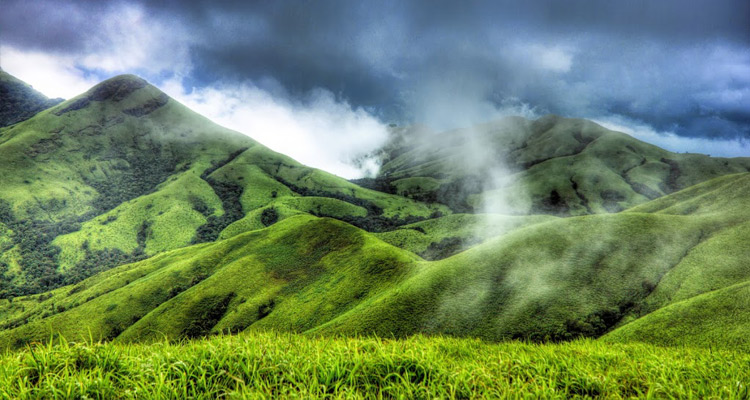 Distance from Bangalore: 260 kms
How to reach: A lot of state government and private buses run from Bangalore to Coorg. A journey of around 6 hours, a lot of people even choose to drive to Coorg.
Read our guide on Coorg here: https://www.wanderwhale.com/destinations/coorg
10. Dandeli
One of the most popular sports in India, river rafting, also happens to be the main attraction of Dandeli, a pretty little town in Karnataka, also called white river rafting due to the bubbly and rough appearance of water. The place also has lush evergreen forests, making it a heavenly abode of nature. Rafting is done in the waters of river Kali. Multiple water activities are performed here along with rafting. It is also an excellent place for people who just want to spend some quiet time alone by surrendering oneself to nature here!
Distance from Bangalore: 460 kms
How to reach: A train or any state-run or private bus can be taken to Hubli and from there, any local bus can be taken to Dandeli.
Read our guide on Dandeli here: https://www.wanderwhale.com/destinations/dandeli